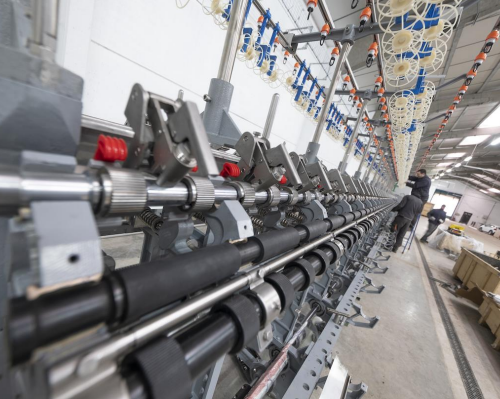 The Fibres branch of the NatUp group is launching La French Filature and announces the forthcoming operational start-up of its wet spinning flax mill, thus confirming the relocation of a know-how that has disappeared for over 20 years. The announced opening of this spinning mill allows the creation of a 100% French linen industry, for clothing and household linen, from the field to the finished product.
Integrated into the NatUp site at Saint-Martin-du-Tilleul in the Eure, La French Filature completes the know-how already present in this factory, including combing and ribbon preparation. To relocate this know-how, NatUp Fibres has acquired several latest generation spinning machines and trained the 29 employees already operating on site. The whole project represents a total budget of 4.4 million euros co-financed by NatUp, the State and the Normandy Region.
"With the opening of La French Filature, the only missing link in this chain, the value chain is now controlled from end to end, guaranteeing complete traceability and optimisation of the environmental impact of the finished product. Manufacturing a wet flax yarn, by locally controlling its production chain, from the cultivation of the seed to the finished product, allows us to feed the ecosystem and satisfy a new market segment: that of 100% French clothing and household linen" explains Karim Behlouli, Managing Director of NatUp Fibres.